Getting children interested in reading can be a chore, and Mini, who formerly loved books, is now finding other things to occupy her other than learning to read. We tried Hallmark's Abigail, an Interactive Story Buddy to see if it could ignite her interest for books once more.
Now that Mini is at school, she is constantly under pressure to learn to read fully, and, as with most kids, she's rebelling and deciding that she much prefers to draw, dance and sing! She still has a bedtime story, read by myself or Gadget Dad, and she can memorise her favourite books, not to mention key words for her age group.
The Abigail Interactive Story Buddy, as a stand alone toy, is plush and cuddly. She has a sweet face, soft fur, and Mini fell in love with her instantly. As a plush, she is of the best calibre, and, that alone straight away peaked Mini's interest in seeing what else the toy could do.
It comes with one hard backed book, which has lovely illustrations- the version of Abigail in the book is instantly recognisable, and the story is heart warming. It comes with a great message promoting perseverance (as Abigail is upset that she cannot balance on a beam in a gym competition and her Mother tells her to believe in herself and not to be so worried about being small).
At a time when Mini can become frustrated at being not quite as skilled at a task as some of her fellow classmates, this sentiment reinforced our own soothing words of encouragement, so she really loved that Abigail faced her trials head on- it was so positive for an impressionable child like our daughter to hear it's not just her that sometimes wants to rush to be better!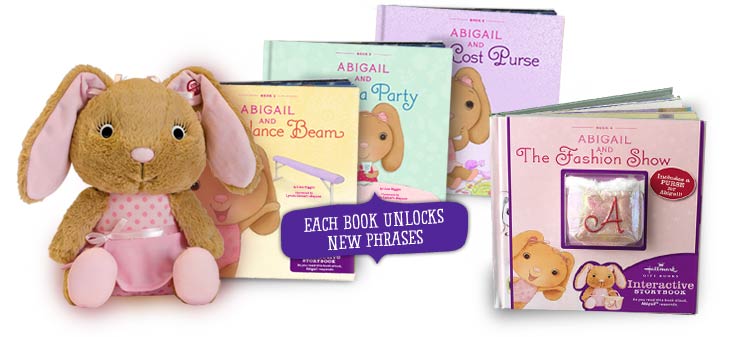 Of course, by far and above the best, and for Mini the most magical aspect of Abigail is that she talks. Its very simple to use, requiring a press of a button to activate which is clearly marked on her ear. It immediately tells the child that she is "ready for her story"- something Mini found amusing as she was surprised that Abigail liked to have a story read to her! Plus points for making children who are becoming less interested in books find a love for stories all over again.
Once you start to read the story book provided (and there are more to come shortly- the toy only works with the special books produced by Hallmark), and providing you speak clearly, at points in the book there are red highlight lines. On reading these highlighted parts, Abigail will interject with a comment on what has just happened, she sometimes giggles too- which again Mini was very impressed with as Abigail found the parts she found funny amusing as well.
The story is just the right length to keep the child interested, and just right for bedtime too. The whole package of cuddly soft toy, beautiful detailed illustrations, a good story with a message and, of course, the fact the bunny can "discuss" parts of the story as well make this a child aged 5+ dream toy.
Mini now loves to take Abigail with her to bed, and we have plans to buy as many books for it as we can find. As she becomes more able to read alone, the fact it works by the child reading aloud is a definite plus too, as, of course they will need to become more confident with reading aloud in class as they get older.
A clever toy which promotes reading and learning, Abigail is a definite thumbs up product in this house! At £19.99, she isn't overly expensive for such a great toy either- I expected her to be at least £15 more expensive.
You can find out more about Abigail and the other Hallmark Interactive Story Buddies at Hallmark's website