Lunchboxes can be a minefield for modern parents. There are so many rules of what you can and can't stick in for the kids lunch these days that, after you consider what your fussy child will eat at lunchtime, can leave you stumped. However, one thing most kids like is do it themselves cheese. We've been trying out Dairylea, to see what the Bratling's think.
Dairylea was something we very rarely got to eat in our house growing up, purely as my parent's weren't huge fans of 80s chemical filled convenience food. It was an illicit treat whilst at friend's houses but I do remember the taste wasn't that cheesy, rather it was more synthetic in texture and taste.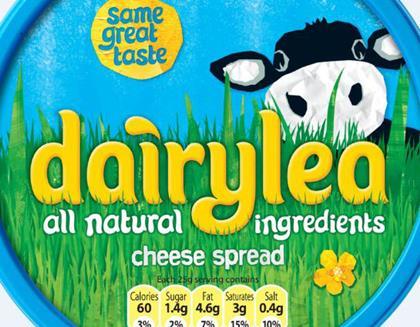 For that reason it's not really something I've ever bought for the Bratlings.
We were contacted to try out the new improved Dairylea, which has now, thankfully, ditched the artificial flavours and colours and replaced them with all natural ingredients.
Firstly, its very much a welcome change- I tried some of the "Light" version (very Mum friendly!) and was pleasantly surprised by the taste. I find a lot of "kids aimed" lunch box cheeses are tasteless- one brand in particular is referred to as "rubber cheese" in our house and definitely not touched by us adults, however, this has a twang to it that is nice on the palate rather than leaving a strong after taste.
I also found it very versatile. The traditional triangles are great for lunch times as a snack, and they travel well, without leaving a gooey mess. The spreadable pits are a great size and a little goes a long way, however they are also good for cooking. I put a spoon in some pasta and it made an instant cheesy sauce when a little milk was added. Very simple. It also went well melted on pizza.
Its purse friendly too, at under £2 for the spreads, triangles and new Bites.
One thing I'd like to see though is less salt and sugar, however they are on the way to improvements in the list of items contained in the cheese.
I would say the change in ingredients, improvement in taste and ease of use make this well worth adding to your back to school shopping list- and thank goodness the days of 80s synthetic tastes have gone!